Blind Vision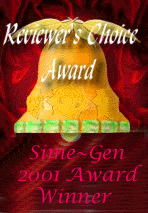 "Blind Vision's forte is the development of its characters and to a lesser extent of the intrigue that surrounds them. Blind Vision is a novel of people, not events;
of burgeoning relationships not bloody battles; and of imperfect characters' emotional development, not of irredeemable evil despots or angelic do-gooders....if you enjoy well-plotted pseudo-mediaeval fare with an element
of nicely understated romance, then
Blind Vision should amply satisfy."
Read the full review at SFSite.
"Marguerite Krause creates a captivating world full of intrigue and secrets. Part of the fascination is living through Phillipe's visions. Be prepared to become spellbound on the journey Krause will take you on in Blind Vision."
Read the full review at SimeGen.
"This highly original fantasy took my breath away and came very close to stealing my heart. The unique characters, the interesting premise and the excellent writing, by a very talented author, will measure high by anyone's standards..."
"...You'll also root for reluctant lovers Zuli and Phillipe as hard as if they were your dearest friends. Of course, by the end of the book, they are."
Read the full reviews at Crescent Blues.
"I just couldn't put it down. I wanted to find out what happened to each character--which future would play itself out..." Read this and other reviews at Amazon.com (use their search feature to find the book by title or author).

Places to Buy Books
If you like to support small, independent publishers (in paper or electronic formats), it's often easy (and economical) to buy directly from their websites. For print books, ask at your favorite local brick-and-mortar bookstore to see if they can aquire the book for you. For ebooks, you can place your order through many online vendors. Here are a few sites with a good selection and good service, that seem eager to keep pace with the ongoing evolution of ebooks.
Smashwords.com provides ebooks in enough formats to suit every ereading device.
Barnes and Noble's Nook has a huge library of titles available.
And everyone has heard of Amazon's Kindle, of course!
BookLocker.com sells online ebooks and provides book reviews, author interviews, industry news, and more.
Speculation Press "Our Mission: To publish the most imaginative speculative fiction books available. Our Books: The majority of Speculation Press books will be cross-genre books, combining elements of speculative fiction/science fiction/fantasy with romance, thrillers and conspiracy books. All of our books will be about more than just a single idea; they will have fully developed characters with all that entails, including family issues and relationship issues." Books are published in trade paperback format; excerpts can be found at their Website.
Alexandria Digital Literature offers previously published copyrighted works from established authors, primarily in contemporary fiction. eBook titles are platform neutral with easy download to personal computers, personal digital assistants, and eBook devices.

More Fine Authors
Visit the home pages of these talented authors:

More Book News and Reviews
Check out any of the following sites for reviews, author interviews, and articles that will give you ideas for choosing the next book you'd like to read:
SF Site "The home page for fantasy and science fiction"
Simegen science fiction reviews, plus links to mailing lists and more
Huntress Book Reviews frequently updated reviews of paper and ebooks
Subversion celebrating women's fiction (interviews and reviews, focus on romance)

Conversations About Books
We'll be adding links here soon for interesting blogs and other places to read and talk about books.